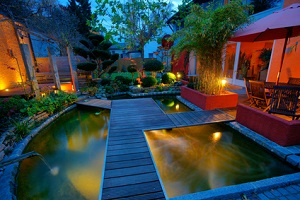 Texans love to get together for outdoor fun like barbecues, tail gate parties, bonfires, graduation parties, reunions, holiday parties, and more. And when get together for a party, everyone's welcome which is why we do it big just like everything else!
If you're planning an event on your land or in your backyard, we can help you get set up with some great lighting options. If you have an outdoor area of your home that's useful for entertaining, you've got a great start for some additional equipment that can make your outdoor fun even better!
Options In After Hours Party Lighting
With today's options in low voltage lighting, it's easy to have a great back yard that's fun to hang around in, especially when it's attractive with lights that really look great. Perfect for back yard barbecues, swimming parties, patio parties, family reunions, outdoor weddings or anniversary celebrations, holiday parties, and more, outdoor party lighting adds that extra element that make your events fun!
Low voltage lights of today are great at producing large amounts of light with very little energy usage. Plus, you can have different colors of light so your party can really get going with lights that change from one color to the next. Or, you could opt for string lights that come in varying shapes and colors.
– Low Voltage String Lights
– Low Voltage Spot Lights
– Low Voltage Swimming Pool Lights
– Low Voltage LED Party Lighting
– LED Landscape Lighting
– Outdoor Decorative Lighting
– Low Voltage Rope Light
– LED Accent Bar or Garden Lights
Design A Low Voltage Party Landscape Light System
When it comes to landscape lighting for your home's get-together's, no one does it better than our expert Houston area electricians here at Wesco Systems Electrical Services. We can help you design the perfect landscape party light system for your property.
We're the area's premier electrical services providers since 1987. With our landscape lighting installation services, you'll have the best options around in party lighting and the highest quality expertise.
Whether you want your small back yard lit up or you want to light up a couple of acres with party lighting for your Texas bonfire, tail gate party, or your child's graduation property on your land, we're the go-to experts!
And while we're at it, we can set up some temporary or permanent electrical wiring for your hired band or any other electrical requirements you may have for your party. The sky is the limit on what we can do for you! From electrical repairs in Pearland to landscape lighting in Clear Lake, ceiling fan installations in Friendswood to Pasadena service panel upgrades, our expert electricians have you covered!
If you are looking for options in Low Voltage Party Light, please call (281) 485-9304 or complete our online request form.