Kemah Electrician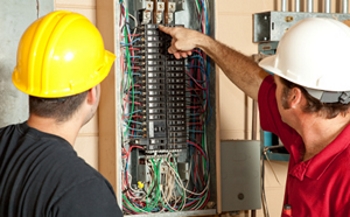 Just what do you need a professional Kemah electrician for? Well, most homeowners think that you only need an electrician when you are constructing a new home, but this is simply not the case. In fact, if you have anything in your home that has to do with electricity and it needs repairs, it is far better to call in a experienced Kemah electrician to fix it for you. If you make a mistake while trying to fix your own electrical wiring and the like, such an error can be quite costly to you. Thus, when it comes time to repair or upgrade the electrical appliances and electrical system components in your home, call a trusted Kemah electrician.
At Wesco Systems Electrical Services, we are the Kemah electrician you can trust for quality electrical work and fair pricing. We have over 25 years of experience providing electrical repairs, installations and troubleshooting services to homeowners throughout Kemah, TX. Our electricians are professionally trained individuals that are always neat, clean and courteous when providing service to our customers. Want complete customer satisfaction that is 100% guaranteed? You got it! Want special deals and online coupons that save you money on your Kemah electrical repairs? We provide that, too! We also offer Same Day/Next Day Service if you call by 10:00am.
Whatever your electrical service needs are, rest assured that you can rely on our Kemah electrical contractors to get the job done correctly, safely and in a prompt and efficient manner.
Wesco Systems Electrical Services - Kemah Electrical Contractor
We are a fully licensed and insured Kemah electrical contractor specializing in residential electrical repairs, installations and troubleshooting. We see no job as being too small. Whatever electrical work you need done for your home, Wesco Systems Electrical Services is the Kemah electrical contractor you can trust for quality results.
As a local Kemah electrical contractor, we take pride in serving Kemah and the surrounding communities. We are a BBB Accredited Business, members of the Electrical Advisory Committee for San Jacinto College, and Talk of the Town Customer Satisfaction Award recipients.
If you find your home in need of installation of or repairs for electrical appliances, lighting, ceiling fans, surge protectors, outlets and switches, home generators, low voltage or electrical service panel upgrades, please contact our expert Kemah electrical contractors today. We'll be happy to provide you with quick, reliable service at a fair price.
Kemah Landscape Lighting
Wesco Systems Electrical Services is a family owned and operated business that has been serving Kemah, TX with quality electrical repairs, installations and troubleshooting since 1987. As fully licensed and insured Kemah electrician, we take pride in our work, and our goal is to provide all of our residential and commercial customers with superior quality customer service and a professional Kemah electrical contractor they can rely on for honest results and fair pricing.
When you call us for Kemah landscape lighting installation or repair services, we'll treat your family just like ours - with courtesy and respect. We don't see any job as being "too small" for our team of professionally trained Kemah electricians to tackle. So don't hesitate to call us, no matter what your electrical need is! We'll have the problem taken care of safely, correctly and with a smile on our face as we treat you with the same quality service and respect that we provide all of our customers.
Benefits of Choosing Us as Your Kemah Landscape Lighting Electrician:
Over 25 of Experience
Licensed Electrical Contractors & Professionally Trained Electricians
Fair, Up-Front Pricing
100% Satisfaction Guaranteed
1 Year Warranty on Material & Labor provided
Same Day/Next Day Service Available
Residential Electrical Service Specialists
Kemah Electrician
Kemah Electrical Repairs
Kemah Electrical Services
Electrical Contractor
Electrical Repairs
Landscape Lighting
Service Panel Upgrades
Generators
Low Voltage
Lighting
Electrical Installation
Ceiling Fans
Kemah Service Panel Upgrades
Encountering flickering lights or appliances that do not function properly or continuously shut off are tell-tale signs of an electrical system problem in your Kemah home. In such a situation, you should seek help from a professional Kemah electrician as the problem may require more complicated steps to figure out. Often times it is necessary to check your electrical service panel, and the Kemah electrician may discover that your home is in need of a service panel upgrade.
However, Kemah panel upgrades do not have to be based only on impending electrical problems. Service panel upgrades can be required for less important reasons such as home renovations or remodeling projects, or the installation of an electrical appliance that would require some fiddling around with in regards to wiring. Likewise, if you live in an older home, the current electrical system may not be able to keep up with the electrical demands placed on the system by today's appliances and technology.
At Wesco Systems Electrical Services, our Kemah electricians can upgrade your electrical system and service panel so that it suits the electricity needs of your house. Not sure if your home needs a Kemah service panel upgrade or not? Give us a call! We'll be happy to provide you with an electrical safety inspection and give you an honest evaluation of your home's energy usage and the strain it may be putting on your electrical system.
The Services We Provide in Kemah, TX
We Proudly Serve
Houston, TX | Bellaire, TX | Pasadena, TX | Santa Fe, TX | Alvin, TX | Dickinson, TX | Fresno Area, TX | Friendswood, TX | Kemah, TX | League City, TX | Manvel, TX | Pearland, TX | Taylor Lake Area, TX | Webster, TX
Recent Articles
Hiring a Houston Electrician for Electrical Repairs and Services - For you to be able to ensure that you get the best possible job  done in your home, you should limit your options among contractors that will be able to take the best possible care of your home systems. Even if highly skilled professionals tend to ask for higher fees than their other counterparts, there is no doubt that spending your money on their services ... [read more]
Trusting Homes to Houston Electricians - A lot of fires are caused by short-circuits and electrical problems. So for home improvement projects, always look for a Houston electrician to ensure the safety of homes and of people living on it. One responsibility of Houston electricians is to prepare the electrical installation ... [read more]
If you are looking for a reliable Kemah electrician then please call (281) 485-9304 or complete our online request form.