Welcome to Wesco Systems Electrical Services: a Santa Fe Electrician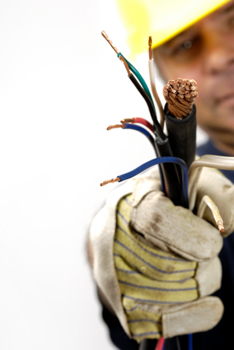 Wesco Systems Electrical Services is a family owned and operated business that has been serving Santa Fe, TX with quality electrical repairs, installations and troubleshooting since 1987. As fully licensed and insured Santa Fe electrician, we take pride in our work, and our goal is to provide all of our residential and commercial customers with superior quality customer service and a professional Santa Fe electrical contractor they can rely on for honest results and fair pricing.
When you call us for Santa Fe electrical repairs or installation services, we'll treat your family just like ours - with courtesy and respect. We don't see any job as being "too small" for our team of professionally trained Santa Fe electricians to tackle. Don't hesitate to call us, no matter what your electrical need is, big or small. We'll have the problem taken care of safely, correctly and with a smile on our face as we treat you with the same quality service and respect that we provide all of our customers. We never recommend risking your own safety or the integrity of your home's electrical components just because an electrical issue seems "too small" for a professional Santa Fe electrician to fix. It's what we're here for!
Why Choose Wesco Systems as Your Santa Fe Electrician:
We are an Established Business with Over 25 of Experience
We are Licensed Texas Electrical Contractors (#24619)
Our Employees are Clean, Professionally Trained Electricians
We offer Up-Front Pricing with No Surprises!
Get 100% Satisfaction Guaranteed
We are a BBB Accredited Business
Same Day/Next Day Service Available
1 Year Warranty on Material & Labor provided
Wesco Systems Electrical Services - Santa Fe Electrical Contractor
If you are in need of any type of electrical work in Santa Fe, TX - such as electrical repairs, landscape lighting installations, or troubleshooting services - you have come to the right place! At Wesco Systems Electrical Services, we are the Santa Fe electrical contractor you can trust for quality electrical repair and installation services that are done correctly, safely and at fair, up-front pricing. We offer 100% customer satisfaction guaranteed, so you can rest assured that you will get quality results for any electrical services you receive from our qualified team of licensed Santa Fe electrical contractors.
Wesco Systems Electrical Services is a fully licensed and insured Santa Fe electrical contractor specializing in residential electrical repairs, installations and electrical service panel upgrades. We also offer commercial electrical services. All of our Santa Fe electricians are professionally trained and courteous, and will show you the same respect we show every customers, whether your job is big or small. From troubleshooting and residential electrical repairs to installing Santa Fe landscape lighting and electrical appliances, we can take care of all that and more.
We see no job as being too small, either. Whatever electrical work you need done for your home or business, from outlets to ceiling fan installation and panel upgrades, Wesco Systems Electrical Services is the Santa Fe electrical contractor you can trust for quality results!
Santa Fe Landscape Lighting
Considering installing landscape lighting to your Santa Fe residential or commercial property? Contact the experts at Wesco Systems Electrical Services! We can take care of all your Santa Fe landscape lighting needs from low voltage and solar lights to outdoor lighting features such as lamps and spot lights.
What most people do not always realize is that implementing a good Santa Fe landscape lighting design also increases the safety level of a property. As opposed to a poorly lit yard, installing a good landscape lighting plan will allow you to deter criminals from targeting your home or business. Properties with well-lit yards tend to rarely be victims of vandalism and other types of crimes. Installing the necessary lighting fixtures inside and outside your home will not only help you make your property look more appealing and enjoyable, but it will also provide you and your family with safer nights.
Santa Fe Electrician
Santa Fe Electrical Repairs
Santa Fe Electrical Services
Electrical Contractor
Electrical Repairs
Landscape Lighting
Service Panel Upgrades
Generators
Low Voltage
Lighting
Electrical Installation
Ceiling Fans
Santa Fe Generators
Having a generator installed for your Santa Fe home's emergency electrical needs is a great way to be prepared for whatever nature throws your way. With such equipment available, there is no need to worry about unexpected power outage as Santa Fe generators are a ready alternative source of energy for running several electrical appliances, depending on the power capacity.
When purchasing a generator for your Santa Fe home, several factors should be considered. Santa Fe generators offer a variety of advantages and disadvantages that should be weighed before considering the purchase of equipment that will best fits your household's electrical needs.

Also referred to as the emergency power source, Santa Fe generators are generally known to produce clean energy, converting fuel into electricity. Most home generators use gasoline because this is one of the cheapest fuel alternatives. However, some generators run using diesel or propane. These types of fuel are readily available almost everywhere, but some homeowners prefer storing fuels at home so that when the need arises, it can be easily loaded to the generators. Note however that fuel, especially those that are fossil based, have a short shelf life. Storing would entail the purchase of anti-coagulants to lengthen the storage life of the fuel. Therefore it is not advisable to keep the fuel inside the generator set for it may pose a certain degree of risk to the system, which may lead to permanent damage.
Having trouble deciding on what type of Santa Fe generator would work best for your home? Contact the professional Santa Fe electrician you can trust for honest, reliable services: Wesco Systems Electrical Services! Our trained professionals will help guide you through the generator selection process, ensuring you get the right product for your home's electrical needs. We'll also install the generator so that you can rest assured the installation was done correctly. Just give us a call! We're here to take care of all your residential electrical needs in Santa Fe, TX.
The Services We Provide in Santa Fe, TX
We Proudly Serve
Houston, TX | Bellaire, TX | Pasadena, TX | Santa Fe, TX | Alvin, TX | Dickinson, TX | Fresno Area, TX | Friendswood, TX | Kemah, TX | League City, TX | Manvel, TX | Pearland, TX | Taylor Lake Area, TX | Webster, TX
Recent Articles
Hiring a Houston Electrician for Electrical Repairs and Services - For you to be able to ensure that you get the best possible job  done in your home, you should limit your options among contractors that will be able to take the best possible care of your home systems. Even if highly skilled professionals tend to ask for higher fees than their other counterparts, there is no doubt that spending your money on their services ... [read more]
Trusting Homes to Houston Electricians - A lot of fires are caused by short-circuits and electrical problems. So for home improvement projects, always look for a Houston electrician to ensure the safety of homes and of people living on it. One responsibility of Houston electricians is to prepare the electrical installation ... [read more]
If you are looking for a reliable Santa Fe electrician then please call (281) 485-9304 or complete our online request form.