Houston Circuit Breakers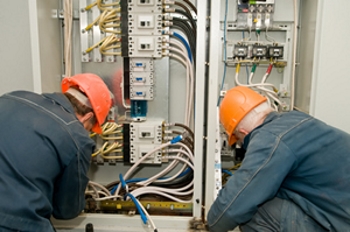 Did you know that electrical arc faults are one of the leading causes of household fires in Houston, TX? Each years, thousands of fires in Houston are due to electrical wiring and arcs. To prevent fires caused by electrical wiring, have a professional Houston electrician install an arc fault breaker to your home's electrical system.
Arc Fault Breakers or Circuit Interrupters (AFCI) are Houston circuit breakers designed to prevent fires by detecting unintended electrical arcs and then disconnecting the power before the arc starts a fire. An arc fault breaker must distinguish between a harmless arc that occurs incidental to normal operation of switches, plugs and brushed motors and an undesirable arc that can occur, for example, in a lamp cord that has a broken conductor in the cord.
Repairing or replacing your circuit breakers can prevent unnecessary electrical downtime as well, and in many cases is more economical than paying for electrical repairs down the road. For all your circuit breaker needs in Houston and the surrounding areas, you can count on Wesco Systems Electrical Services. Our professionally trained electricians are experienced in installing, repairing, and inspecting Houston circuit breakers and arc fault circuit interrupters. Want to ensure your electrical wiring is safe and that your home is equipped with a arc fault circuit interrupter for fire prevention purposes? Then give us a call today!
Our Houston Circuit Breaker Contractors Provide These Services
Circuit Breakers
Arc Fault Breakers
GFCI
AFCI
Ground Fault Interrupters
Breaker Panels
Breaker Boxes
Electrical Panels
Electrical Breakers
Fault Circuits
GFCI Outlets
Ground Fault
Why Houston Should Hire Us for Their Circuit Breakers
Wesco Systems Electrical Services is a family owned and operated business that was established in 1987. For over 25 years, we have been serving residential and commercial customers throughout Houston, Pearland and the surrounding areas with quality electrical services, including ground fault circuit interrupters (GFCI) and arc fault circuit interrupters (AFCI). We keep up to date with the electrical code, and ensure your circuit breaker and electrical system are up to current standards for fire safety, electrical safety and energy efficiency.
As a fully licensed and insured Houston electrician and Better Business Bureau accredited electrical company, Wesco Systems Electrical Services strives to always provide quality craftsmanship, courtesy, complete customer satisfaction and up-front pricing on all our services. We offer Same Day (call by 10:00am) and Next Day Service for your convenience. A 1 Year Warranty on Labor & Materials is also available for your peace of mind. For all your Houston circuit breaker needs, you can trust in Wesco Systems Electrical Services for quality results.
Recent Articles about Circuit Breakers
Adding Houston Appliance Circuits


Amperes, volts, power, circuits – all these terms, although used commonly in magazines and newspapers and even on online sites when talk of appliances are involved, are still not yet fully understood by many. There is really no need to delve into the technical definitions of these terms. Anyway, for the homeowner who purchases appliances […]

Read More
If you are looking for Houston circuit breakers then please call (281) 485-9304 or complete our online request form.