Houston Ceiling Fans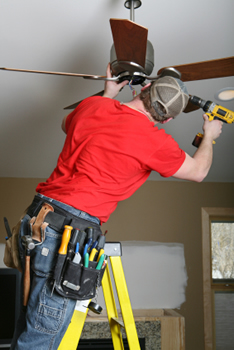 At Wesco Systems Electrical Services, we offer ceiling fan installation and repair services to help Houston homeowners stay cool during the hot summers and save money on their air conditioning bills. We are experienced at install a variety of ceiling fan types, from high tech ceiling fans with remote controls to ceiling fans with and without lights.
Ceiling fans are a great home improvement investment as they help in the proper circulation of air which provides relief from the often unbearable heat as well as a nice supply of fresh air in rooms with no ventilation arrangements. Improvements in ceiling fan technology have made today's ceiling fans more energy efficient and functional, too. Houston ceiling fans have a variety of features now, including sleek designs, curved fan blades for increased aerodynamics, quiet motors, lighting additions and remote control. Instead of the same old run of the mill ceiling fans of the past, you can now get a ceiling fan stylish, modern and efficient. Some ceiling fans even become a focal features of a room due to their elaborate lighting designs and stylized fan blades. It's just a matter of what you are looking for in a Houston ceiling fan, and how much money you are willing to spend. To ensure your ceiling fans work properly and don't encounter problems later, have a professional Houston electrician handle wiring and installing your ceiling fans.
Save Money In Summer & Winter with Houston Ceiling Fans
A benefit of having a ceiling fan installed in your Houston home is that it can help save money on your heating and cooling bills. Depending on which way the fan blades are spinning, a ceiling fan can make a room feel cooler or warmer, decreasing the need to use your air conditioner and heater as often.
Rather than actually decreasing or increasing the temperature of a room, ceiling fans are able to evaporate moisture or push warm air down from the ceiling depending on which way the fan spins. When its hot outside, the fan blades should be spinning counter-clockwise to create a cooling breeze effect by decreasing the moisture on your skin. If its a humid day, a ceiling fan can make a home in Houston feel up to seven degrees cooler, saving you money since you won't need to run the air conditioner as much.
During the colder months of winter, ceiling fans can help make your Houston home warmer by spinning clockwise. This type of rotation forces warm air from the ceiling downward into the room. This will require less use of your heater which in turn will save you money on your heating bill. If you have a room that feels hotter or colder than others in your home, balance it out by having a ceiling fan installed. You'll feel the difference!
For Houston ceiling fan repairs and ceiling fan installation services, contact Wesco Systems Electrical Services today. Our Houston electricians are experts when it comes to repairing and installing ceiling fans, and we have a variety of ceiling fans available that will match your style and help you become more energy efficient.
Our Houston Ceiling Fan Contractors Provide These Services
Ceiling Fans
Ceiling Lights
Ceiling Fan Repairs
Ceiling Fan Lights
Ceiling Fan Blades
Ceiling Fan Mounts
Installing Ceiling Fans
Wiring Ceiling Fans
Ceiling Fans with Lights
Outdoor Ceiling Fans
Ceiling Fan Installation
Ceiling Fans with Remote
Why Houston Should Hire Us for Their Ceiling Fans
From simple electrical installations like dimmers, switches, and ceiling fans, to more complex services like circuit breaker installation, landscape lighting, and electrical panel upgrades, the professional electricians at Wesco Systems Electrical Services can help you with all your electrical service needs. With over 25 years of experience as a licensed Houston electrician, you can rest assured that you will always receive quality service and craftsmanship when you choose us to take care of your Houston ceiling fans.
Our goal is to provide you with complete satisfaction, and we even guarantee it in writing. We also offer up-front pricing and a 1 Year Warranty on Labor & Materials. Need Same Day/Next Day Services? Call by 10:00am, and we'll take care of your Houston ceiling fan that day. We also have Next Day Service available for your convenience. You can count on our Houston electricians to take care of all your ceiling fan needs, from installation to repairs. Just give us a call!
Recent Articles about Ceiling Fans
Houston Ceiling Fan Installation – Adding Comfort to Your Home


Working to achieve maximum home comfort is always an effort worth the money you spend. There are many things that bring comfort to one's home. Primarily, one of these things is air coolers. These appliances come in a variety of purposes, once that produce: cool air, some that also function as heaters etc. These specific […]

Read More
If you are looking for Houston ceiling fans then please call (281) 485-9304 or complete our online request form.