Houston Electrical Meters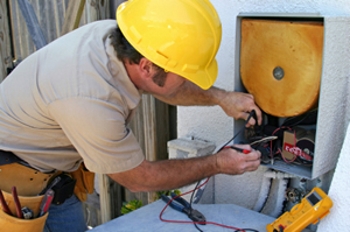 From electrical wiring to Houston electrical meters, the team of Houston electricians at Wesco Systems Electrical Services can take care of all your electrical needs.
Is the box containing your electrical meter looking dingy and worn out? Meter bases supplied by the electrical company need replacing on occasion, especially if they are not up to current electrical code standards. Houston electrical meters are often inspected and replaced during remodeling and home renovation phases that include electrical work. The electric meter base may also be required to be replaced when a house is being sold or purchased. Changing the electrical supply of a home though means such as an electrical panel upgrade may also include the need for the Houston electrical meter base to be updated.
If you home is in need of electrical upgrades such as to your Houston electrical meter, give us a call. We'll make sure your new meter base is installed correctly, safely and efficiently.
Our Houston Electrical Meter Contractors Provide These Services
Electrical Meters
Meter Bases
Power Company Meters
Electrical Wiring
Power Meters
Smart Meters
Electrical Work
Electrical Supplies
Electrical Services
Panel Upgrades
Energy Meters
Electrical Repairs
Why Houston Should Hire Us for Their Electrical Meters
Family owned and operated, Wesco Systems Electrical Services is an established electrical service company that has been serving the electrical needs of Houston, Pearland and the surrounding areas of Texas since 1987. We specialize in residential electrical repairs and installation services, from electrical wiring to Houston electrical meters.
With over 25 years of experience as a state licensed Houston electrician, you can rest assured that the team at Wesco Systems Electrical Services has the experience and training to take care of your electrical meter upgrades. We keep up to date with current electrical code standards, and can ensure your meter base is installed correctly and safely. We offer complete customer satisfaction and up-front pricing on all our services. We also offer Same Day (call by 10:00am) and Next Day Service for your convenience. A 1 Year Warranty on Labor & Materials involved with your Houston electrical meter base update is available for your peace of mind.
Recent Articles
Hiring a Professional Electrician to Install New Electrical Appliances Guarantees the Best Results


It is hard to think of a single everyday task that is not made possible in some way by electricity. You and your family rely on your electrical system and appliances for the comfort, security, and convenience that you enjoy within your home. If your appliances are old, malfunctioning, and unreliable, you should consider installing […]

Read More
Party Lighting or Stage Lighting For Your Texas Sized Outdoor Parties


Texans love to get together for outdoor fun like barbecues, tail gate parties, bonfires, graduation parties, reunions, holiday parties, and more. And when get together for a party, everyone's welcome which is why we do it big just like everything else! If you're planning an event on your land or in your backyard, we can […]

Read More
If you are looking for Houston electrical meter bases then please call (281) 485-9304 or complete our online request form.