Houston Electrical Repairs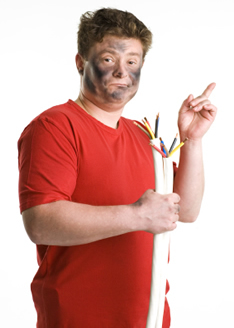 Many Houston homeowners think the only time an electrician is needed is when a home is being constructed or remodeled. However, this is far from the case! If you have anything in your home that has to do with electricity and it needs repairs, it is far better to call an experienced electrician to take care of your Houston electrical repairs than to try fixing the problem yourself. If you make a mistake while trying to fix your own electrical wiring and such, the error could cost you a lot in damages to your home - as well as yourself!
So when it comes time to repair or upgrade the wiring, electrical appliances, or any other aspect of your home's electrical system, give us a call. At Wesco Systems Electrical Services, our team of qualified and professionally trained electricians will take care of your Houston electrical repairs and ensure the job is done safely and correctly. We know the ins and outs of electrical systems, from electrical wiring to breaker boxes and everything in between, so you can rest assured that we'll get your electrical problems under control in an efficient manner.
At Wesco Systems Electrical Services we are the Houston electrician you can trust for quality electrical repairs and troubleshooting services. Our skilled and experienced Houston electricians handle all types of electrical repair work such as adding and troubleshooting existing electrical wiring, appliance circuits, ceiling fans, indoor and outdoor lighting, outlets, dimmers, switches, tele and more. Are your interior lights flickering? Some outlets in your home not working? Blown fuses and breakers? Don't try to tackle it yourself, risking injury and further damages! Just give us a call, and we'll send one of our professionally trained electricians out to provide you with top-notch electrical repairs.
Our Houston Electrical Repair Contractors Provide These Services
Electrical Repairs
Appliance Repairs
Wiring Installation
Electrical Work
Electrical Outlets
Electrical Cables
Electrical Circuits
Electrical Testing
Electrical Wiring
Washing Machine Repairs
Dishwasher Repairs
Electrical Services
Why Houston Should Hire Us for Their Electrical Repairs
At Wesco Systems Electrical Services, our professional Houston electricians can come to your home and diagnosis any electrical problem you may be having. We will do all your electrical repairs and electrical work personally to guarantee an excellent job and quality results. If your electrical repairs require any new installations, you can rest assured that all the electrical materials we install for your Houston electrical repairs will be the finest that are available. We also offer Same Day / Next Day Service for all your electrical repair emergency needs.
As fully licensed and insured electricians, we are residential electrical repair specialists. We don't see any job as being "too small" for our team to tackle. If you have an electrical issue, please don't hesitate to call us, no matter how small it may seem. We'll have your electrical problem taken care of safely, correctly and with a smile on our face as we treat you with the same quality service that we provide any other customer. We never recommend risking your own safety or the integrity of your home's electrical components just because an electrical issue seems "too small" for a professional Houston electrician to fix. It's what we're here for - to provide quality electrical repairs and keep your home's electrical system running smoothly and safely!
Recent Articles about Electrical Repairs
Finding the Best Houston Electrical Contractor


If you are like most Houston homeowners, changing a light bulb is about the extent of your electrical repair abilities. Fortunately, there are qualified Houston electrical repair contractors just a phone call away. Electrical repairs are one of those things that homeowners eventually have to contend with, and there are several issues at stake that warrant […]

Read More
Are DIY Electrical Repairs Safe?


You may be surprised to learn that the number of people willing to perform do-it-yourself electrical repairs at home grows greater every month. Many Houston consumers, in an attempt to save money in difficult economic times, think they can do without hiring a Houston electrician to perform simple tasks at home. It may be easy […]

Read More
If you are looking for Houston electrical repairs then please call (281) 485-9304 or complete our online request form.