Houston Generators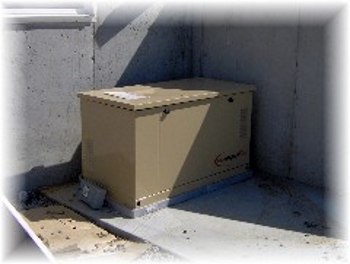 At Wesco Systems Electrical Services, our Houston electricians offer professional home generator installation and repair services. If you are in need of generator services for your home or business in Houston or the surrounding areas, you can count on our team to take care of it.
When power outages strike Houston, some homeowners and businesses cannot afford to simply ride out the power outage until the electricity starts working again. This is why many business owners have started installing emergency standby generators in order to protect their investments and keep their businesses operating, even during power outages. Similarly, a homeowner can protect his or her family by installing a home standby generator that is capable of running necessary appliances.
Houston generators are designed to provide electricity in times of power shortages or malfunctions for a short duration of time. Having an emergency backup power system like a home generator in situations where the power goes out is critical for running appliances like lights, refrigerators, air conditioners, heaters and medical equipment during power outages.
Depending on the electrical capacity, some Houston generators can ensure both lighting and electrical appliances are still operational during power outages. When purchasing a generator, make sure it has the electrical capacity to support whatever appliances you will need during a power outages - will you wan to run appliances like air conditioners, refrigerators, furnaces, television and heaters? Or just lights and basic electrical components? If you are unsure of what to look for, contact the Houston electricians you can trust at Wesco Systems Electrical Services. We'll provide you with guidance and advice when selecting a generator for your home or commercial property, and we will also install your new Houston generator to ensure the job is done correctly and safely.
Our Houston Generator Contractors Provide These Services
Generators
Home Generators
Generator Installation
Generator Repairs
Standby Generators
Electric Generators
Power Generators
Portable Generators
Electricity Generators
Generator Prices
House Generators
Electrical Services
Why Houston Should Hire Us for Their Generators
Wesco Systems Electrical Services is a family owned and operated business that was established in 1987. For over 25 years, we have been serving residential and commercial customers throughout Houston, Pearland and the surrounding areas with quality electrical services, including generator installation and repair. As a fully licensed and insured Houston electrician and Better Business Bureau accredited electrical company, Wesco Systems Electrical Services strives to always provide quality craftsmanship, courtesy, complete customer satisfaction and up-front pricing on all our services.
Our Houston electricians are always neat, clean and professionally trained. We offer Same Day (call by 10:00am) and Next Day Service for your convenience. A 1 Year Warranty on Labor & Materials is also available for your peace of mind when it comes to our generators. Call today for a free estimate and generator prices.
Recent Articles about Generators
How to Pick Houston Generators for Your Home


Houston generators are your run-to when there are power interruptions. Not having enough electricity could really make it hard for a household to work as normally as it would want, and this is why it's important that you choose a generator that is most compatible for your home and your energy requirements. What should you […]

Read More
Houston Generators: Assuring Reliable Energy Source during Emergencies


Significant additions to one's home bring about improvement to the quality of living for those who reside in it. It can be done for luxury, upkeep, refurbishing, space management, energy conservation, and preparedness for emergencies. Acquiring Houston generators falls under preparedness for emergencies. With such equipment available, there is no need to worry about unexpected […]

Read More
If you are looking for Houston generators then please call (281) 485-9304 or complete our online request form.