Houston Lighting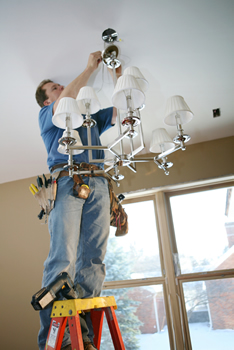 Improper lighting can be annoying and sometimes even unhealthy, putting unnecessary strain on the eyes, so it is important that you home have proper interior lighting installed. Likewise, the type of lighting you choose can make or break a great looking room. For example, a kitchen that is too dim can make cooking seem like a chore, and this often used family gathering spot won't seem so inviting when there isn't enough light. A kitchen that has just the right amount of recessed lights complimented by decorative pendant lights hanging over a bar or counter, on the other hand, is bright, inviting and invigorating. Often times simply replacing the light fixtures and improving the interior lighting design can completely transform the look of a room without the need for expensive remodeling services.
At Wesco Systems Electrical Services, we tailor our Houston lighting services to each job. From interior lighting to landscape lighting installation, our professionally trained Houston electricians can take care of all your lighting needs. We install and repair pendant lights, recessed lighting, chandeliers, light switches, dimmers, wall lighting, light fixtures and more.
For home renovations and remodeling projects, we are happy to work with each homeowner in order to understand their goals and objectives, simultaneously coordinating with the design team or remodeling contractor to integrate those ideas into a beautiful and functional lighting design. Likewise, with the construction of new homes, we are available for electrical safety inspections, electrical wiring installation and lighting installation, ensuring the whole project comes together smoothly while encompassing the homeowners style and expectations to create the perfect lighting design.
Our Houston Lighting Contractors Provide These Services
Interior Lighting
LED Lighting
Lighting Fixtures
Lighting Installation
Pendant Lighting
Light Switches
Chandeliers
Wall Lighting
Lighting Design
Recessed Lights
Fluorescent Lights
Ceiling Lights
Why Houston Should Hire Us for Their Lighting
At Wesco Systems Electrical Services, we are a fully licensed and insured Houston electrician that specializes in providing residential electrical services throughout Pearland, TX and the surrounding areas. We have over 25 years of experience as a professional electrical company, and all our electricians are neat, clean and professionally trained. You will always receive quality craftsmanship and excellent customer service when you choose us to take care of your Houston lighting needs.
We provide 100% satisfaction guaranteed to all our customers as well as offer fair, up-front pricing on our lighting installation estimates and a 1 Year Warranty on Labor & Materials. Our professionally trained electricians can take care of all your interior light design and installation needs, as well as any landscape lighting installation you may need.
Recent Articles about Lighting
Alvin Lighting


Choosing the best Alvin lighting options and fixtures for your bathroom is an important consideration in planning your bathroom remodel. Certain kinds of light, light intensity and light fixtures will be best suited to your needs in various areas within the bathroom, especially if you are remodeling a large bathroom. Here are a few tips […]

Read More
Let there be Light – but Let Houston Electricians Make It Happen


Every home should have proper interior lighting.  Having a set of lights installed appropriately throughout a home not only provides illumination once the sun goes down, it could also potentially make any living space more pleasing to the eye.  It is true that the right light in the right place can brighten up a room […]

Read More
If you are looking for Houston lighting installation services then please call (281) 485-9304 or complete our online request form.