Houston Outlets, Switches & GFCI's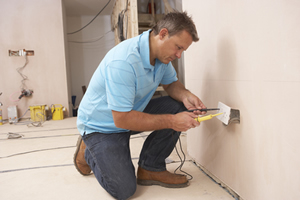 When it comes to the electrical wiring of your home, it can be extremely dangerous if not installed properly. That is why it is always recommended to hire a professional Houston electrician for any electrical wiring needs you have, including installing electrical outlets and switches.
Houston electricians are qualified to make proper repairs to wiring and electrical outlets, and are able to safely and properly install new light fixtures, switches and electrical outlets. Not hiring an experienced electrician could result in damage to your home's electrical wiring, and may even cause a fire. This goes for even the seemingly simple tasks such as installing new electrical outlets to your Houston home. While it may seem simple on the surface, installing an outlet properly is more complicated than you might think. Installing an outlet box to a wall stud can easily go wrong if not done by a licensed Houston electrician.
If you need electrical outlets and switches installed or repaired, give us at call. At Wesco Systems Electrical Services, our team of professionally trained and licensed Houston electricians have the knowledge and experience to safely and properly install and repair any electrical outlet or wall switch with precision and ease.
Likewise, we can also take care of any Ground Fault Interrupters or GFCI needs you have. Houston GFCI are devices used as shock solutions that prevent electrocution, typically installed as part of a circuit breaker. Tripped breakers and blown fuses? Circuit breaker on the fritz? Give us a call! We'll take care of all your home electrical service needs in Houston, Pearland, and the surrounding areas.
Our Houston Outlet Contractors Provide These Services
Outlets
Switches
GFCI
Electrical Outlets
Ground Fault Interrupters
Circuit Breakers
Electrical Wiring
Power Outlets
Light Switches
Electrical Circuits
Electrical Work
Outlet Installation
Why Houston Should Hire Us for Their Electrical Outlets
Wesco Systems Electrical Services is a family owned and operated business that was established in 1987. For over 25 years, we have been serving residential and commercial customers throughout Houston, Pearland and the surrounding areas with quality electrical services, including ground fault circuit interrupters (GFCI) and arc fault circuit interrupters (AFCI). We keep up to date with the electrical code, and ensure your circuit breaker and electrical system are up to current standards for fire safety, electrical safety and energy efficiency.
As a fully licensed and insured Houston electrician and Better Business Bureau accredited electrical company, Wesco Systems Electrical Services strives to always provide quality craftsmanship, courtesy, complete customer satisfaction and up-front pricing on all our services. We offer Same Day (call by 10:00am) and Next Day Service for your convenience. A 1 Year Warranty on Labor & Materials is also available for your peace of mind. For all your Houston circuit breaker needs, you can trust in Wesco Systems Electrical Services for quality results.
Recent Articles
Hiring a Professional Electrician to Install New Electrical Appliances Guarantees the Best Results


It is hard to think of a single everyday task that is not made possible in some way by electricity. You and your family rely on your electrical system and appliances for the comfort, security, and convenience that you enjoy within your home. If your appliances are old, malfunctioning, and unreliable, you should consider installing […]

Read More
5 Tips to Great Landscape Lighting


Landscape lighting is increasing in popularity with both home and business owners in Houston and the surrounding Texas area. There are several benefits to lighting up your residential or commercial property, but it's absolutely essential that you choose the right lights and for all the right reasons. With endless options it's hard to decide which […]

Read More
If you are looking for Houston outlets, switches and GFCI's then please call (281) 485-9304 or complete our online request form.