Houston Panel Upgrades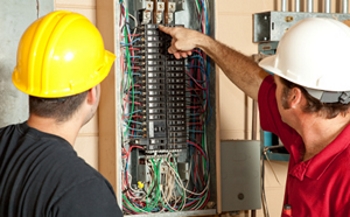 If you live in an older home in the Houston area, chances are you are going to need a service panel upgrade in order to handle the electrical demands of today's appliances and technology. From lights to electrical appliances, central air conditioning and heating, TVs, computers, chargers of all kinds, refrigerators, dishwashers, washers and dryers, and everything else that might be plugged into your home's electrical system, the demand for electrical power is great for today's homeowners. In older homes or houses with more modest electrical systems, all these electrical appliances can take quite a toll on the electrical system, causing lights to flicker, appliances to shut off at random, and some outlets to stop working.
For homeowners that encounter any of these problems or those planning on a home renovation that will come with new kitchen appliances, it is recommended to get Houston panel upgrades. An electrical service panel upgrade is just what it implies: an upgrade from the existing electrical panel, increasing the electrical capacity of the service panel. With all the new appliances and technical devices we now have in our Houston homes, older homes might not have sufficient power available to handle the increased demand. Therefore, a "service change" is required. Often times this includes not only an upgrade in your electric panel, but an upgrade in your meter socket and wire size between the meter and panel as well.
To ensure your Houston service panel upgrade is completed correctly and that any additional electrical components are properly installed, contact Wesco Systems Electrical Services. Our team of professional Houston electricians can upgrade your service panel and ensure that your home is able to accommodate today's electrical demands safely and accurately.
Services Our Houston Panel Upgrade Contractors Provide
Electrical Panel Upgrades
Panel Upgrades
Electrical Upgrades
Electrical Work
Service Panel Upgrades
Electrical Supply
Circuit Breakers
Electric Panels
Electrical Wiring
Electrical Services
Electrical Installation
Electrical Boxes
Why Houston Should Hire Us for Their Electrical Panel Upgrades
At Wesco Systems Electrical Services we provide 100% satisfaction guaranteed to all our customers. We also offer up-front pricing and a 1 Year Warranty on Labor & Materials on our electrical panel upgrades. We are a fully licensed and insured Houston electrician specializing in residential electrical services, so you can rest assured that we know home electrical systems and what is required during a panel upgrade to ensure your home gets a proper electrical supply.
Wesco Systems Electrical Services provides electrical panel upgrades to homeowners throughout Pearland, TX and the surrounding areas. We have over 25 years of experience as an established electrical company, and all our Houston electricians are neat, clean and professionally trained. You will always receive quality craftsmanship and excellent customer service when you choose us to take care of your Houston panel upgrades. Call today to request a free estimate for your electrical work.
Recent Articles about Electrical Panel Upgrade
Pearland Electrical Panel Upgrades


Encountering flickering lights or appliances that cannot function appropriately are tell-tale signs of an electrical system problem. This situation may require that one seek professional help immediately other than just sizing up the problem yourself that may require more complicated steps to figure out the problem. These are situations that no one would like to […]

Read More
Houston Panel Upgrades: Why aren't you doing One Already?


There was a time when the only dominant and more energy-consuming electrical appliances in the house are the lights, the TV, the refrigerator and the heater for those cold winter nights. Unfortunately, that was a thing of the past – today, the electric-powered stuff in your house could be more than the number of your […]

Read More
If you are looking for Houston electrical panel upgrades then please call (281) 485-9304 or complete our online request form.