Houston Smoke Alarms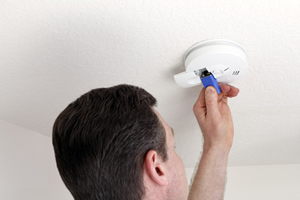 Fire can grow and spread quickly. Because of this having working smoke alarms in your Houston home can mean the difference between life and death. These life-saving devices are only effective when they are working properly, so it is important to make sure your Houston smoke alarms are installed and operating correctly. Smoke alarms with batteries that are dead, disconnected, or missing can't alert you to the dangers of smoke and fire.
If you suspect your smoke detectors are not up to par, contact the Houston electricians at Wesco Systems Electrical Services. Don't wait until it is too late. Our expert Houston electricians can install, inspect, or replace your smoke detectors quickly and reliably.
Houston Fire Safety - The Right Way to Install a Smoke Alarm
Smoke alarms should be installed on every level of your home, including the basement, making sure that there is an alarm outside every separate sleeping area. New homes are required to have a smoke alarm in every sleeping room and all smoke alarms must be interconnected.
Hard-wired smoke alarms operate on your household electrical current. They can be interconnected so that every alarm sounds regardless of the fire's location. This is an advantage in early warning, because it gives occupants extra time to escape if they are in one part of the home and a fire breaks out in another part of the house. Smoke alarms that are hard-wired should have battery backups in case of a power outage, and should be installed by a qualified Houston electrician, like the licensed professionals at Wesco Systems Electrical Services.
Keep in mind the following information concerning smoke alarm placement and installation:
If you sleep with bedroom doors closed, have a qualified technician install interconnected smoke alarms in each room so that when one alarm sounds, they all sound.
If you or someone in your Houston home is deaf or hard of hearing, consider installing an alarm that combines flashing lights, vibration and sound.
Mount smoke alarms high on walls or ceilings (remember, smoke rises). Ceiling mounted alarms should be installed at least four inches away from the nearest wall; wall-mounted alarms should be installed four to 12 inches away from the ceiling.
If you have ceilings that are pitched, install the alarm near the ceiling's highest point.
Don't install smoke alarms near windows, doors, or ducts where drafts might interfere with their operation.
Never paint smoke alarms. Paint, stickers, or other decorations could keep the alarms from working.
Services Our Houston Smoke Alarm Contractors Provide
Smoke Alarms
Smoke Detectors
Carbon Monoxide Detectors
Carbon Monoxide Alarms
Fire Alarms
Fire Detectors
Fire Safety
Smoke Alarm Systems
Smoke Alarm Placement
Residential Smoke Alarms
Carbon Monoxide Sensors
Smoke Alarm Installation
Why Houston Should Hire Us for Their Smoke Alarms
At Wesco Systems Electrical Services you family's safety is important to us. We want to ensure that your home has properly working smoke detectors, which is why we offer fair priced smoke alarm installation and repair services. With over 25 years of experience as a licensed Houston electrician, you can rest assured that you will always receive quality service when you choose us to take care of your Houston smoke alarms.
Our goal is complete customer satisfaction, and we even guarantee it in writing. We also offer up-front pricing and a 1 Year Warranty on Labor & Materials. Need Same Day/Next Day Services? Call by 10:00am, and we'll take care of your smoke detectors that day. We also have Next Day Service available for your convenience. If you are in need of smoke detector installation, smoke alarm repairs, carbon monoxide sensors, and etc., you can count on our Houston electricians to provide you with the fire safety tools you need to keep your family prepared and protected.
Recent Articles
Hiring a Professional Electrician to Install New Electrical Appliances Guarantees the Best Results


It is hard to think of a single everyday task that is not made possible in some way by electricity. You and your family rely on your electrical system and appliances for the comfort, security, and convenience that you enjoy within your home. If your appliances are old, malfunctioning, and unreliable, you should consider installing […]

Read More
5 Tips to Great Landscape Lighting


Landscape lighting is increasing in popularity with both home and business owners in Houston and the surrounding Texas area. There are several benefits to lighting up your residential or commercial property, but it's absolutely essential that you choose the right lights and for all the right reasons. With endless options it's hard to decide which […]

Read More
If you are looking for Houston smoke alarms then please call (281) 485-9304 or complete our online request form.