Houston Surge Protection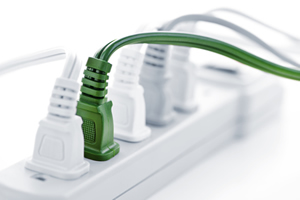 Surges are sudden and unexpected spikes in voltage that travel throughout your Houston home's electrical system. Some surges can come from within your home, such as a spike that hits when you turn on a washing machine or dryer, or even something as simple as sending a document from your computer to your printer. Other electrical surges come from outside your home. These are often caused by electric utility switching, downed power poles in Houston, cut power lines, and lightning strikes. Surges can even enter through the cable televisions and telephone wiring installed throughout your Houston Home.
If lighting strikes your home or somewhere nearby, a surge may go through your home's electrical system. Anything that is plugged in may then get "fried," whether it is turned on or off. This is an unfortunate event that can be prevented by having surge protectors installed. Without proper surge protection, Houston homeowners can end up having to pay out of pocket to replace expensive electrical appliances and equipment such as computers, televisions and more.
At Wesco Systems Electrical Services, our Houston electricians can save you from having to replace appliances and equipment due to power surges. Most Houston homes have some type of expensive electronic equipment - such as kitchen appliances, water heaters, computers, etc. - which are vulnerable to power surges. At Wesco Systems Electrical Services, we can protect these items by installing a whole house surge protector to your home. Additionally, entertainment equipment and/or computers can be protected with a surge protector bars.
Don't wait for a power surge to zap your electrical appliances and entertainment equipment - call Wesco Systems Electrical Services today for Houston surge protection services! 
Our Houston Appliance Repair Contractors Provide These Services
Surge Protection
Surge Protectors
Power Surges
Lightning Protection
Power Strips
Surge Suppression
Surge Arresters
Device Protection
Uninterruptible Power Supply
Lightning Surge Protection
Whole House Surge Protection
Whole House Surge Protectors
Why Houston Should Hire Us for Their Appliance Repairs & Upgrades
Make sure your home's electrical appliances and entertainment equipment is kept safe from damaging power surges by calling your trusted Houston electrician, Wesco Systems Electrical Services, for quality surge protection solutions. Our team of professionally trained and licensed Houston electricians have the experience and skills to install and repair a sorts of surge protection devices, including whole house surge protectors, surge arresters and uninterruptible power supplies.
Our family owned and operated business has over 25 years of experience serving the electrical needs of Houston and the surrounding areas. We offer complete customer satisfaction, Same Day / Next Day Service, up-front pricing, free estimates, and a 1 Year Warranty on Labor & Materials. Our Houston electricians specialize in residential electrical repairs and installations, and will always show respect to you and your home. Call us today for a free estimate on your Houston surge protection needs.
Recent Articles about Surge Protection
Keep Your Pearland House as Safe as Possible with Whole House Surge Protection


If there are instances when you notice even the slightest flickering of light when you plug in or switch on electrical equipment in your Pearland home, then there is a possibility that you are overloading your home's main circuit. In cases like these, you should see to it that you take the necessary steps of Pearland whole […]

Read More
Protect Your Houston Electronics


Increasingly, Houston residents find themselves more and more dependent on electrical devices in this modern world. Our DVD players, gaming systems, microwaves and of course our computers are important to our quality of life and communication with our family, friends and in some cases, work contacts. Considering also that these electronic devices are not always cheap […]

Read More
If you are looking for Houston surge protection services then please call (281) 485-9304 or complete our online request form.